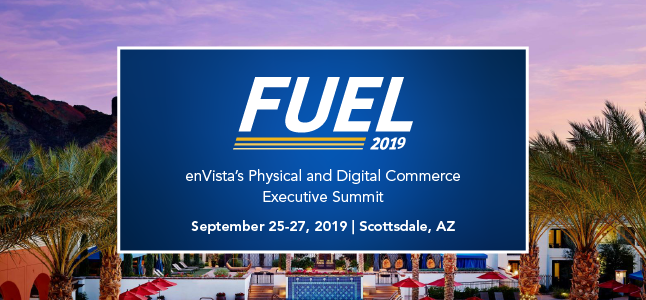 This September 25 to 27 in Scottsdale, Arizona, enVista is hosting its annual physical and digital commerce executive summit!
Attendees will be able to sit in on breakout sessions from the following tracks:
Supply Chain Execution and Optimization
Transportation Strategy and Analytics
Business Strategy
Enabling Technology
Unified Commerce
Few executive-level conferences are solely designed to help supply chain, transportation, technology and unified commerce leaders connect with their peers in order to share ideas, shape best practices, and learn how to address some of the biggest challenges faced in today's competitive and complex market.
Who Should Attend?
Current enVista clients and supply chain, transportation and unified commerce executive leaders interested in learning more about optimizing global operations are invited to attend. Through three keynote presentations and 25 breakout sessions, attendees will hear from featured client speakers and some of the world's leading brands. Over the last several years, FUEL has hosted well-known companies such as Luxottica, CBRE, Sephora, Best Buy, Tractor Supply Co. and many more!
What to Expect
Keynote Messages:
The conference will kick off with a keynote message from Steve Banker of ARC Advisory Group on Megatrends in Supply Chain and Logistics. Throughout the conference, keynote messages will also be delivered by other featured speakers and enVista CEO Jim Barnes. We will also hear a keynote presentation from Rob Lively, Executive Leadership Coach, on Leading Outside the Moment.
Breakout Sessions:
Here are just a few of the topics that will be covered in breakout sessions that will be presented at FUEL:
Track 1, Transportation Strategy and Analytics: Leveraging Transportation KPI Tracking to Drive Cost Reduction
Track 2, Supply Chain Execution and Optimization: How to Select the Best WMS for Your Business
Track 3, Unified Commerce: Move Beyond POS with OMS - Enabling Anywhere Commerce
Track 4, Enabling Technology: Data & BI Analytics; and Industrial Internet of Things
Track 5, Business Strategy: Supply Chain Network Design; and Digital IT Strategy
Key Takeaways:
The conference will bring together dozens of supply chain, transportation and unified commerce executives. This conference is designed to fuel:
Insights and learnings to help supply chain, transportation and unified commerce leaders optimize global operations and enterprise commerce
Connections, conversations and peer-to-peer learning between executives in an upscale, intimate conference venue
Innovative ideas and best practices shared during industry roundtables and 20 breakout sessions featuring client presenters and case studies
Inspiration and actionable advice from dynamic keynote presenters and industry experts
FUEL Attendees will also get the opportunity to network, socialize and build relationships, including a cocktail reception and a Scottsdale Nights party.
What Others Have Said About FUEL
Here are a few thoughts from attendees last year about why you should attend:
"We're so happy to be a sponsor of FUEL, it's been a fantastic, education experience for attendees. We actually brought our robot here with us to the show so people are able to pick orders using the collaborative, mobile robot system and see how our system works. It's been a lot of fun. We heard some great educational sessions. We're looking forward to coming back again next year." -Chris Lingmafelter, 6 River Systems
"FUEL is really a great opportunity to learn some of the strategies and tactics people are using to manage their business. It's a great networking opportunity." -Tom Denzler, Keysight Technologies
"FUEL's been an amazing experience. It's been wonderful to be able to network with out people in the industry and learn from their experiences and just have dialogue and discussion about where the future is headed for technology, software and commerce." -Jennifer Slazyk, Vera Bradley
"FUEL is a great opportunity to network with logistics executives and learn about the initiatives they're taking to improve their customer service and cost." -Vince Pusateri, Luxottica
"enVista has some of the best-in-breed customers, so the open dialogue and conversations we've had in our breakout sessions have been the greatest takeaway." -Jessica Apostolou, CVS
If you're interested in attending FUEL 2019, click envistafuel.com to find out more!